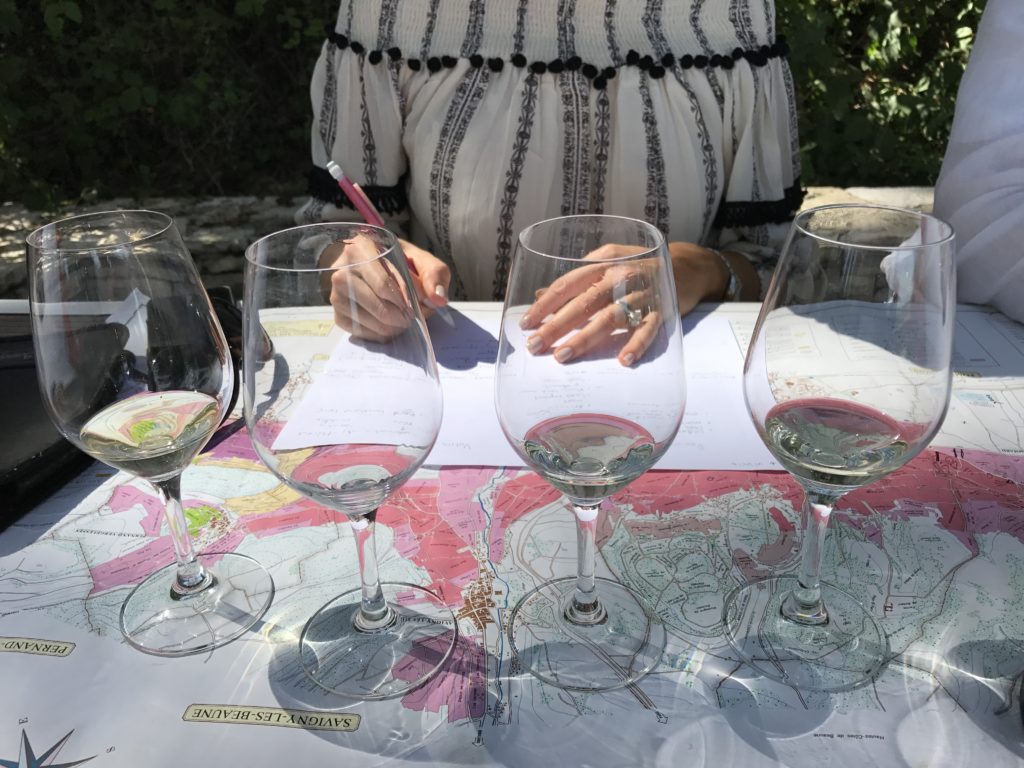 Understanding Burgundy Region and its Wines via the 90 minutes Program of Burgundy Wine School
"This Introduction course is a gem" It can suit any profile – from beginners to advanced it will meet your needs of getting a Burgundy Wine Education.
We will revise the subregions composing Burgundy, the grape variety suited to each type of microclimate, the history and the laws of the past and nowadays classifications. We will interactively build on a paper each word that composes Burgundy region and its wines. The subsoil, the topsoil, the plant, the top of the hills, the geology, the weather influence, etc. Key words such as Dilution and Concentration will help you understand each birth place of each grape. We will give you tangible references in order to make use of them in your every day life. It is fun and interactive, you get to keep our drawings, official documents on terroir, maps, tasting tool vocabulary, guides to visit wineries. We also get to taste a minimum of 6 wines, reds and whites from various locations, vintages & growers. There is always a subject theme in our tastings like the influence of climate on the chardonnay grape or the influence of the slope in the dilution and concentration of each wine, etc.
Make sure you book ahead your venue.
Introduction course available every day of the week in the mornings, a private class from ONE SINGLE guest and 125 euros/ person.
PAST GUEST REVIEWS:
"The best thing we did on our trip to France was this introduction course"
What a great couple of hours! Four of us did the 90 minute education with Cristina and boy did we get schooled. She is a wealth of information about wine and so much more, and as professional and enjoyable as they come. So often, you feel like someone is trying to sell you something or has an agenda, but not so in this case. Cristina's passion for Burgundy and for sharing her knowledge and information is invaluable, and she has more to offer than you can possibly exhaust. She's given us the foundation we needed on the region and its wines. It was an awesome experience and transformed the wine adventures of Burgundy for us. Absolutely worth doing if you want to develop or build upon your knowledge of the region and its wines.
Thanks Cristina!!
"Burgundy Wine School Makes it Real"
We enjoyed visiting many wineries in and around Beaune, but after attending the Burgundy Wine School and Christina Otel's masterful educational program our remaining winery visits took on a deeper dimension.
Christina is successful in immersing attentive minds in the history of the Burgundy wine region, the various geology formations creating the soil types, microclimates, philosophy of winemakers, and pulls together a crisp understanding of the Bourgogne terroir.
I am in the wine business and our Beaune area experience was wonderful prior to the class. After the class our experience was wonderful, purposeful, and insightful.
I would highly recommend reserving a class with Christina if you would enjoy greater dimension and understanding to you Bourgogne experience.