Beaune is the capital of Burgundy Wine. Hundreds of amazing restaurants will be at your feet… if you book them well ahead of time. If you like food and wine than you must organise your restaurant bookings a few weeks before your trip to Beaune & Burgundy. At the last minute you can find something, but rarely the best of choice and value. Click on the photos to get to the restaurant communication pages. I have classified the list of restaurants present on this page, first by Restaurants within Beaune, recommended for Diner (where you can easily go by foot, and I recommend strongly not to take your car as much as possible) and last a paragraph on the Restaurants outside of Beaune that I recommend for Lunch.
Caves Madeleine Restaurant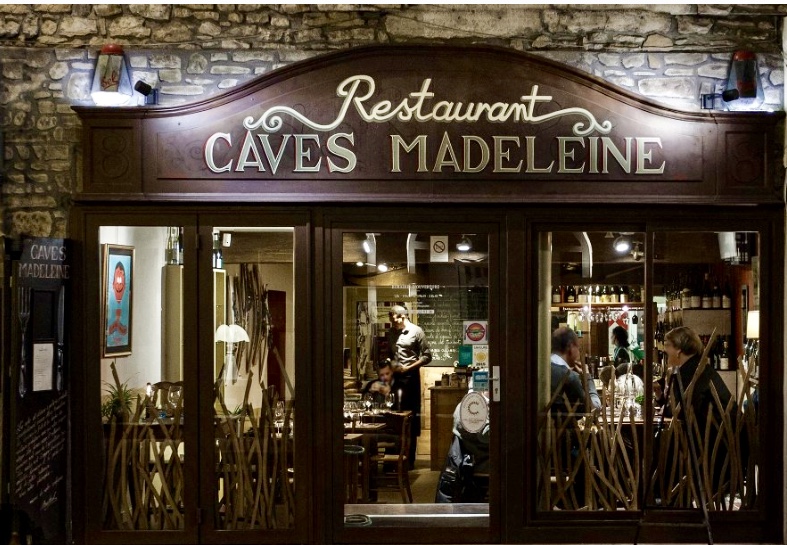 This tiny restaurant is today ( March 2020, while I write this Restaurant page) my favorite restaurant in Beaune. The chef, Martial Blanchon is a very talented person. He sources his ingredients from Local and Organic Growers, like the Loubet Family ( vegetable and plats growers). The food is genuine, tasty and great value. A good wine list awaits the gourmets to be tempted. There is a long communal table, where if you go just by yourself, I recommend sitting at, as you will meet various people from around the world that have the same passion like you, food & wine. On the sides of the communal table you also have a few smaller tables that you can book if you prefer to be quiet.
La Superb – Restaurant