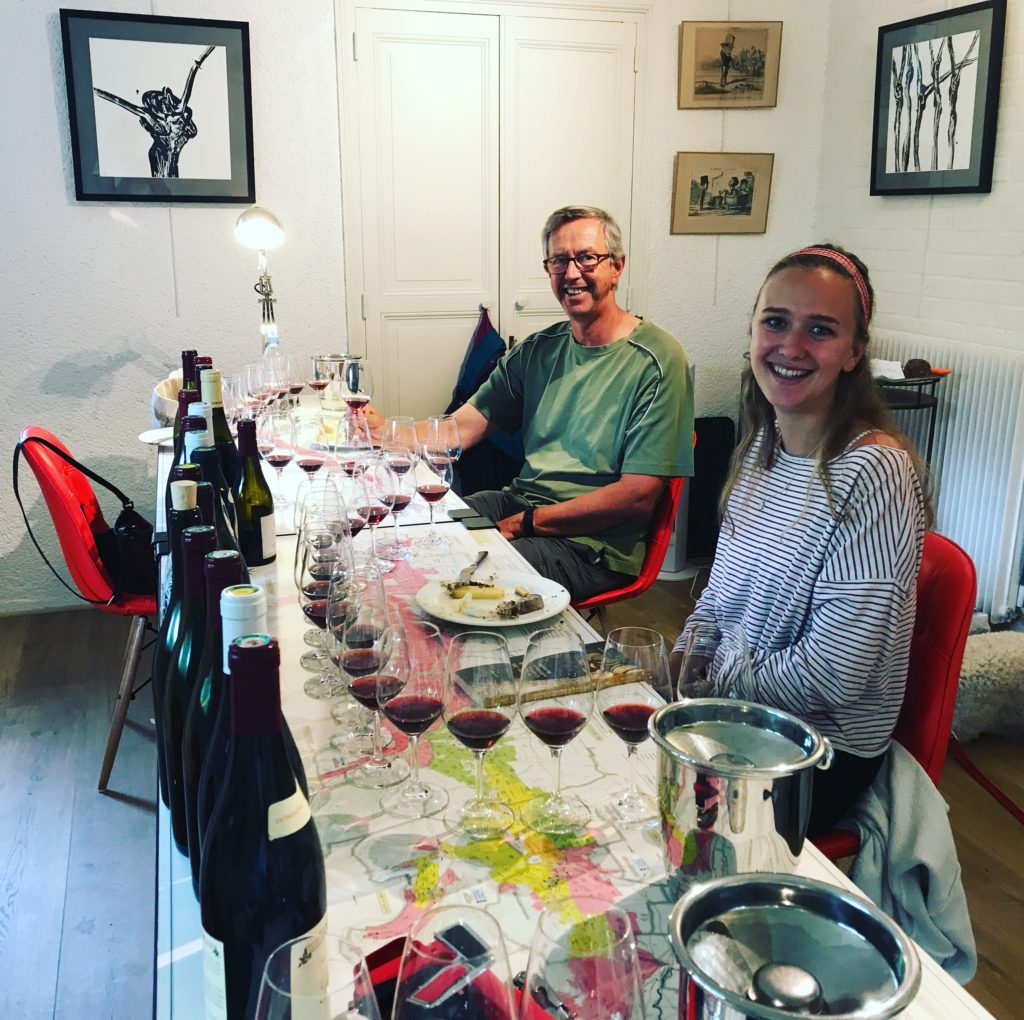 "2 Days in Côte d'Or Program is a gem." For many years I used to do this program on a single day but your head will start spinning by the end of the day. Split in between 2 mornings ( of 4 Intensive HOURS) you still need to be focused  and it makes it more enjoyable. Also, having the afternoons free, allows the informations to get absorbed more efficiently.
Day 1: 9 am to 1 pm, Côte de Beaune – 4 hours –  Intensive Côte de Beaune Exploration
*
Understanding the wines of the Côte de Beaune by tasting and visiting the locations of the AOC composing the subregion. Visit of the 8 Grand Cru Sites situated in Puligny Montrachet and Corton Hill. Visit of the mid slope vineyards in between Corton Hill and Chassagne Montrachet : Ladoix, Aloxe, Beaune, Pommard, Volnay, Meursault, Puligny, Chassagne. Reading the Landscape, focusing on subsoil, soil, "combes", exposure to the sun, etc.  Visualising the AOC Wines as an Entity with tangible images and examples. Part of day one – a comparative tasting of Whites – defining minerality coming from "soft" or "hard" subsoil – giving you references of taste related to a place. A Comparative tasting of reds of the Côte de Beaune in relationship with the reds of the Côte de Nuits. Differences and similarities. Impact of vintage in the taste of a white/ red in Côte de Beaune.
Day 2: 9 am to 1 pm, Côte de Nuits – Intensive Exploration of the Côte de Nuits
*
Visit of the 24 Grand Cru Locations in between Vosne Romanée and Gevrey Chambertin. Comparison tastings of a diversity of wines from Côte de Nuits. Visit to villages like : Nuits Saint Georges, Vosne Romanée, Vougeot, Chambolle, Morey, Gevrey. Zoom inside each AOC visited. Relate the map to the ground and to the taste profile of each wine. Relationship inbetween the wine of the Côte de Nuits & Côte de Beaune.
The Two Day Côte d'Or Vineyards is a unique experience you will not find elsewhere on a private program.
Cost of the 2 Days, 500 euros/ person, 2 guests minimum –
Duration of program: 8 hours split in 2 days, 4 hours each morning from 9 am to 1pm.
https://www.instagram.com/p/BYiCG56l6o9/?taken-by=burgundywineschool