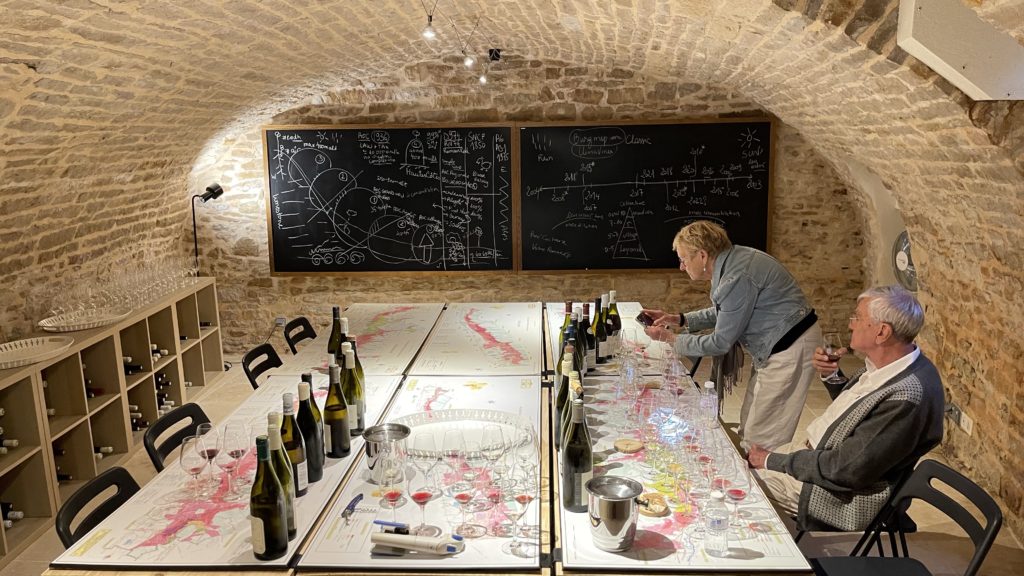 Located in the Heart of Beaune, Burgundy, France, Burgundy Wine School ® aims to Educate Guests from all ages and all backgrounds, beginners and advanced wine professionals To Become Self Confident and Open Minded in the subject of wine and Burgundy Wine.
Classes Start with a theory part that is variable depending on the duration of each class. A piece of white paper and a pen allows Cristina to introduce you to aspects easy to understand. She builds the information one piece at the time, in front of your eyes. She uses Detailed Burgundy Maps of the Nowadays Classification and Antic Maps from past Burgundy Classifications in order to puzzle up the information together.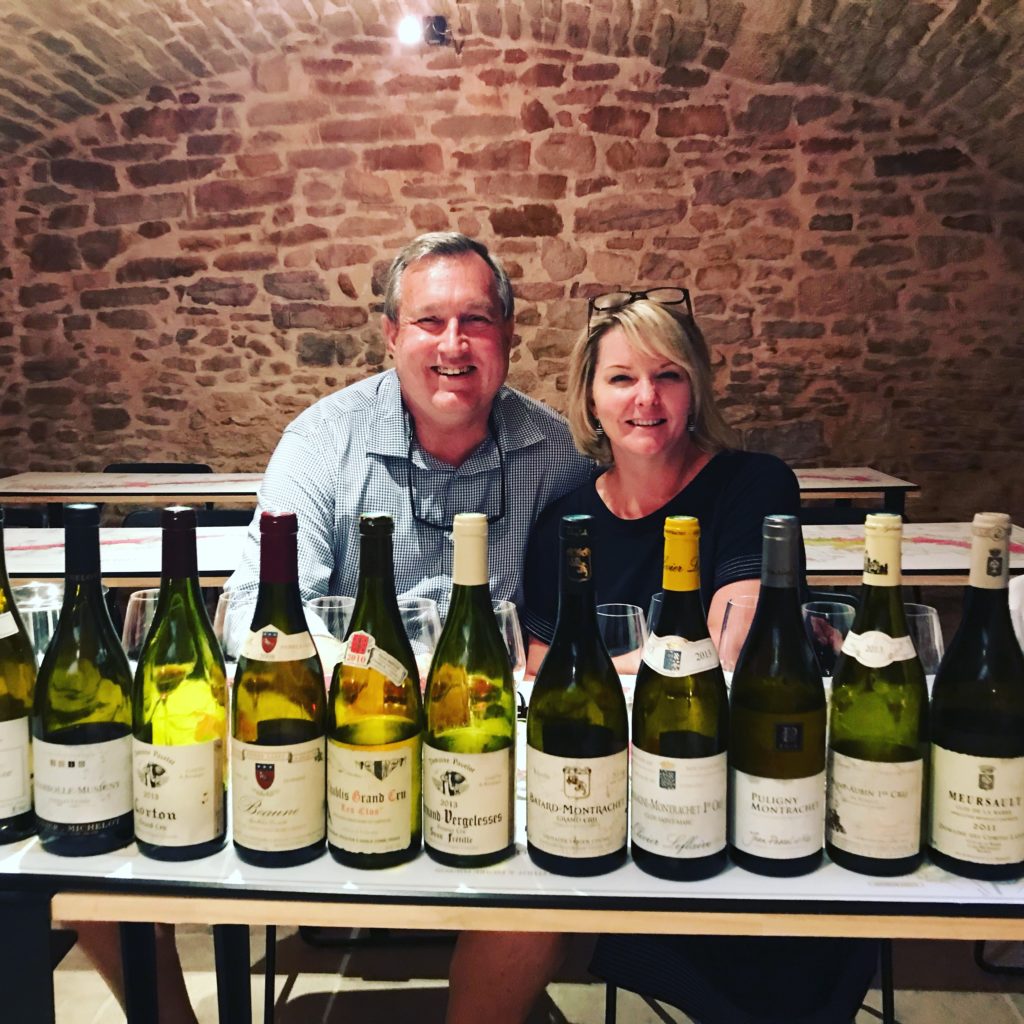 The Underground Cellar is a Beautiful Restored Burgundy Traditional Cellar where there is enough Space and plenty of Table Space, covered with Burgundy Maps, ready to spread around the impressive amount of tasting glasses. Each guest will taste wines that Cristina has personally selected over the past 14 years. She Started her Wine School® Activity in 2009 and She has acquired many Burgundy Wines, well kept in an underground cellar in the centre of the old town of Beaune. These wines that She Collected and continues to Collect will be the tasting material used during the Burgundy Wine School® classes. A Coravin System is used to extract the wine from the bottles.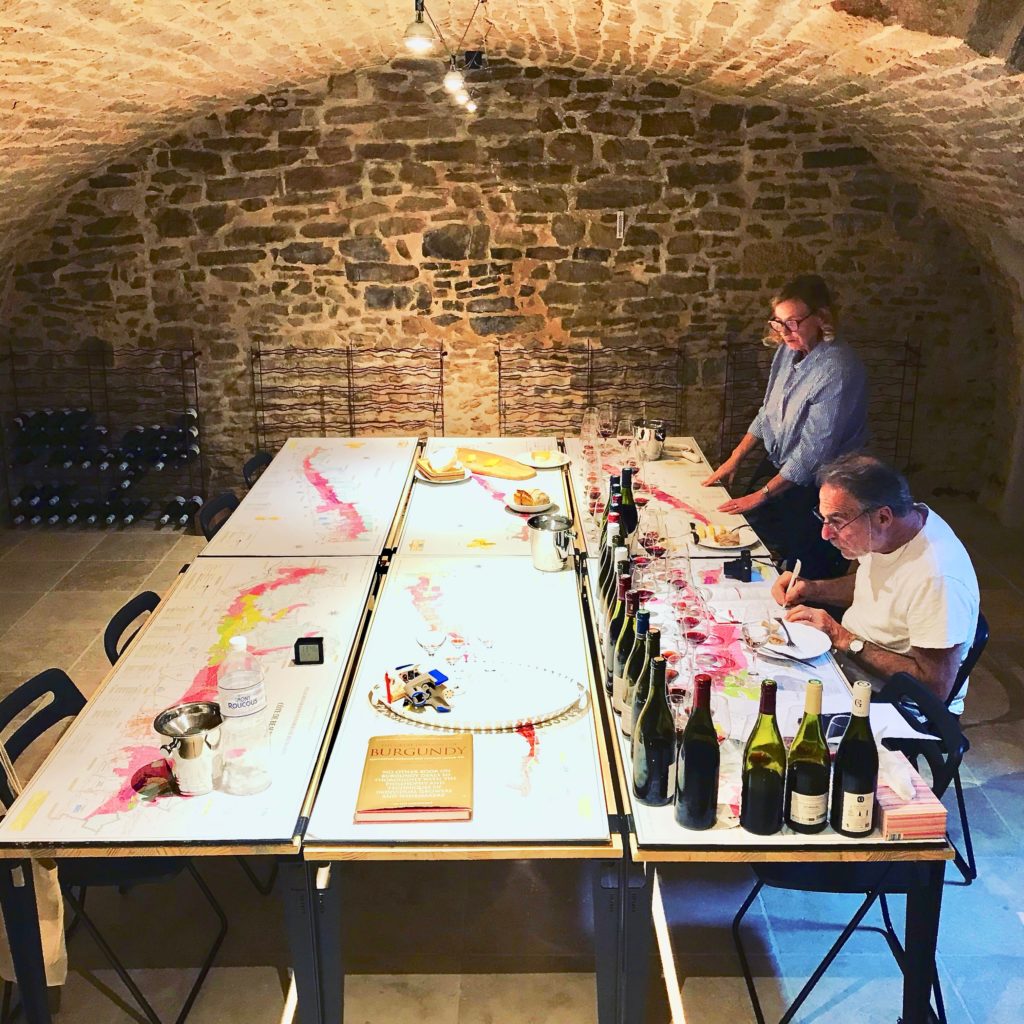 Cristina Otel-Lafon's Story
 » I have started Burgundy Wine School® in 2009 in order to educate guests to the complexity of Burgundy Wines. I moved to Burgundy in my late teens and crossed paths with Becky Wasserman & Russell Hone that introduced me to the wine world. I have completed my HighSchool degree at the Lycée Clos Maire in Beaune. I have attended the Adult School in Beaune for a One Year Degree in Winemaking and Oenology, the BPREA at the CFPPA in Beaune. In search for more knowledge, I have completed a Two Year Degree at the Viticultural HighSchool of Beaune, BTS Viticulture Oenology. After this, Three more years of academic studies at the University of Burgundy, from where I graduated with a Bachelor Degree in Vine Science and a Master in Wine, Vine & Terroir. I enjoyed studying wine and its various aspects. I have worked in the wine trade as a cellar hand, vineyard hand, laboratory & vineyard technician, winemaker, viticulturist, salesman, communication, marketing and guide and built durable relations with many important actors of Burgundy Wine Trade. At the age of 29, I decided, I was better on my own, with greater freedom of choice and started my own company. I started from scratch, doing my first classes in the vineyards, above the vines, in the picnic areas. Like today, I enjoy teaching to a Private Audience, as we can be Confortable, Relaxed, Fit More Information in a Short Time and Navigate a Longer Distance. «